To report Banner outages and issues that need an immediate fix, complete the Report an Issue form on the OIT website.
Instructions to complete the form:
Login with your Auburn Credentials
1. Under Incident Contact Information, enter the name of the user who is experiencing the issue. Preferred contact email and preferred contact number should auto populate with the username.

2. Under Incident Information, select what type of issue are you experiencing. Choose one from the table below based on the issue type:
| | |
| --- | --- |
| Issue Type | Explanation |
| Can't Connect | Application login page is down, cannot access the application |
| Can't Login | Noticing issues or troubles trying to login using Auburn Credentials. |
| Degraded Performance | Application is slow, Some functionality is not working as expected |
| Error Message | Noticing an error in the application |
| Help/Instructions | Need help or additional instructions to operate in the application |
| Physical Damage | Actual Damage to hardware- NA for banner tickets |
| Security Event | Security Problems noticed in the application |
3. Under 'What are you experiencing the issue with?' choose Software/Business Application from the dropdown menu.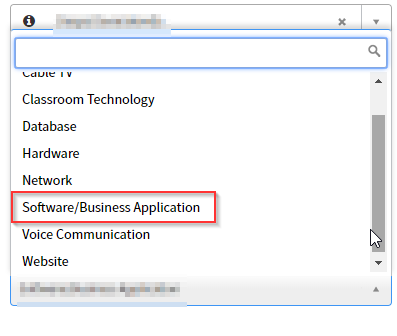 4. Under Service Being Affected, choose Banner from the drop down menu.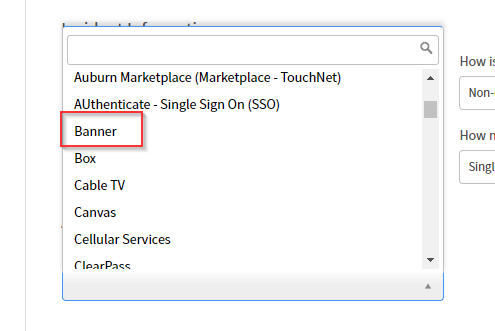 5. Under Location, enter the building location where the user is located.
6. Under Incident Details, enter a brief summary of the issue in the Subject – Short Description box.
7. In the next box, provide full details of the issue you are experiencing. You can add as much text as you need.
8. Click on the Add Attachments paperclip icon to include any relevant attachments like screenshots and documents.
9. Scroll up and click the Submit button to submit the issue.