How to Schedule Conference Rooms in Outlook
Calendar scheduling is confusing so make sure to read this carefully:
Conference Rooms
Please note: Not all rooms are designated for self-service and automatic approval. A room can be set up to handle requests in three ways
Moderated: Requests to reserve the room must be approved or denied by a Moderator. 1101A, 1101B, 3301E, 3315, Atrium, Pavilion, MOT, Faculty library
Self-service for all: Requests are automatically accepted based on availability.
3235, 3403, 4405
FOR CLASSROOMS it's a different process
Complab 2208/2216 – 2216 (30 Seats) 2208 (15 seats)
Email Dr.Steury tds0009@auburn.edu and cc: fwit@groups.auburn.edu
Classrooms - 1207, 1219, 1221, 1223, 1223, 2217
These rooms are scheduled by the Adastra system (Registrar), which doesn't sync of Microsoft's o365 outlook calendars. (and yes we've asked multiple times)
Make requests to these rooms by emailing Roomreservations@auburn.edu and CC: FWIT@groups.auburn.edu (so that we can put it on our Microsoft o365 Calendars when room reservations "OKs" it.)
Scheduling a Conference Room
There are two ways to schedule a room for your meeting as described below. Once a room is added, it will appear in both the "To:" and "Location:" fields of the invitation.
Option 1 for inviting a room to your meeting:
Open a new meeting request
Click on "Rooms"
You'll see a list of rooms available to you
Option 2 for inviting a room to your meeting:
Click on the Address Book button
Select the room from the Global Address Book
Click the Resource button in the dialog box.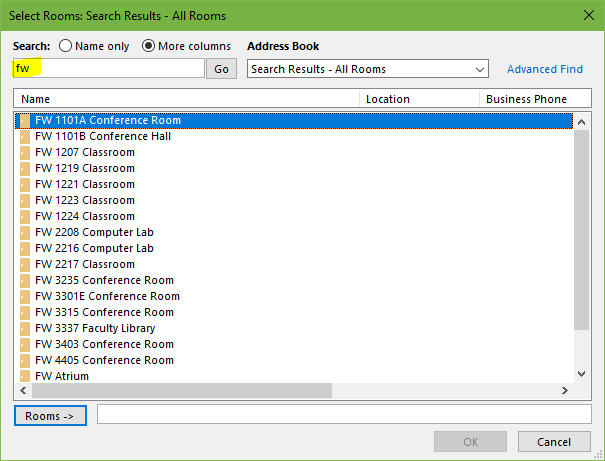 Getting a Response
The response you receive depends on how the room is set up:
Moderated: Request will be reviewed, approved or denied by the Moderator. When you receive an approval or denial depends on when the Moderator reviews your request.
Self-service for all: All requests are automatically accepted based on room availability.
If you have questions
Email - FWIT@groups.auburn.edu


Internal Conference Room Admins:
Elizabeth Bowersock bowerep@auburn.edu
Kayleigh Hornsby jameska@auburn.edu
Michelle Straw mgs0060@auburn.edu
Classroom scheduler
Dr. Steury – tds0009@auburn.edu – Regular Class scheduling for semester
AD ASTRA (registrar) classrooms – roomreservation@auburn.edu
AD-HOC computer lab (2208/2216)
Computer Lab (2208/2216) ad hoc scheduling (after regular class scheduling has been loaded) - FWIT@groups.auburn.edu
VIEWING Calendars online (links)
1101A Conference Room West
1101B Conference Room East
1207 Classroom
1219 Classroom
1221 Classroom
1223 Classroom
1224 Classroom
2208 Computer Lab
2216 Computer Lab
2217 Classroom
3235 Champion Conference Room
3301E Dean's Conference Room
3315 Dixon Executive Conference Room
3337 Faculty Library
3403 Mosley Conference Room
4405 Newman Conference Room
Atrium
Mary Olive Thomas Demonstration Forest
Pavilion