TigerPrint: Web Printing
For assistance with TigerPrint by Ricoh, please contact the IT Service Desk by calling 334-844-4944, emailing itservicedesk@auburn.edu, or visiting our office located at 3010 RBD Library (3rd Floor). For more information about the IT Service Desk, please visit: aub.ie/servicedesk. (Note: the Library staff does not support student printing. You must contact the Service Desk for help or questions regarding student printing.)
Web Printing
---
Students have the option to print via the Papercut website, by navigating to tigerprint.auburn.edu - this is called Web Print. Here are the steps to upload a document for web printing:
Log into Papercut with your Auburn credentials.



Select 'Web Print' from the left-hand menu.



Click 'Submit a Job'.



Indicate the number of copies you would like to print and click 'Upload Documents.'



Drag and drop your documents into the box where it says 'Drag files here' or click 'Upload from computer' to browse for your documents. Once you have uploaded the documents to print, click 'Upload & Complete.'



Once your document is processed, you will receive an email with your Print Release Code. This code will be the same every time you print.




Print your document at either a Kiosk Printer or at a Prepay Printer. (See below for instructions on how to use both options.)

How to Utilize a Kiosk Printer
---
To utilize a Kiosk Printer, you will either need the Print Release Code emailed to you, or you will log in with your Auburn credentials. Follow these instructions on how to utilize the kiosk:
Depending on how you are signing in, you will tap either 'Print Release Code' to enter your individual print release code, or 'Auburn Username' to log into the kiosk with your Auburn credentials.



Once you are logged in, you will see the options to 'Copy,' 'Print,' or 'Reload.' Tap 'Print.'



After tapping 'Print,' you will see jobs available to print and the cost associated. Tap the file name of the job or jobs you would like to print and the job or jobs will highlight. Tap 'Print.' If you have sufficient funds in your Papercut account, your job will print. If you do not have sufficient funds, you will be prompted to pay with a credit or debit card. Note: The options button on the kiosk is not functional. You can not make changes to the document on the kiosk.

Reminder: If you pay with a credit or debit card at the kiosk, this will result in a $10 hold on your credit/debit account. This hold will be released within 48 hours, and you will only be charged the amount of your print job.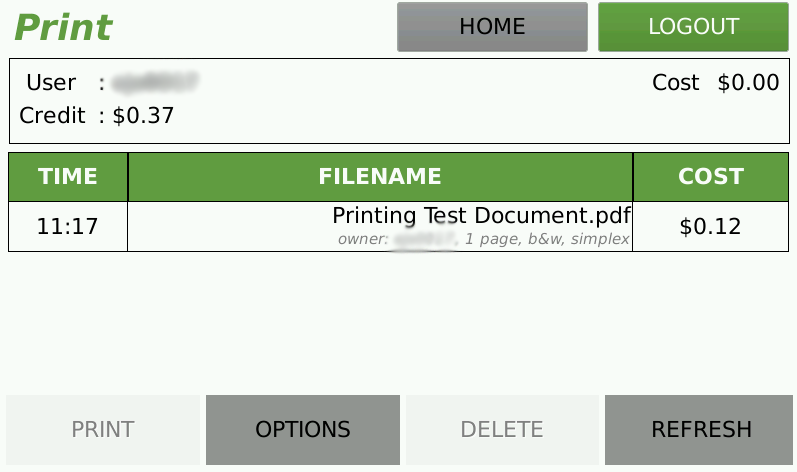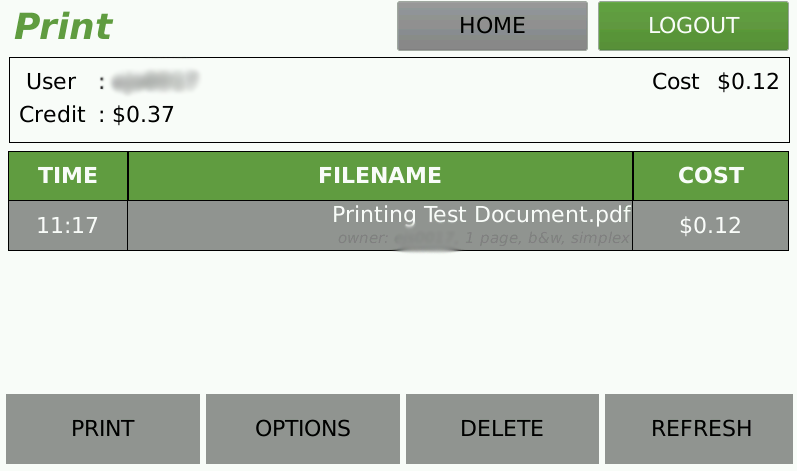 How to Utilize a Prepay Printer
---
To utilize a Prepay Printer, a student must have funds uploaded to their TigerPrint account. To upload funds, please reference the Knowledge Base article TigerPrint: Pricing, Payment Options, and Refunds. Once you are ready to print, simply locate a Prepay Printer, swipe your Tiger Card, and any active jobs in your queue will print.
Note: The Prepay Printers do NOT have a pay kiosk associated with them. They are smaller, stand-alone printers.
Related Links
---