These are instructions for installing Palo Alto Global Protect VPN on a Mac computer. For Windows instructions, click here As always, please make sure you only run one VPN at a time and disconnect from the VPN once you have finished using it.
Please view this video for installation instructions.
1. Download the GlobalProtect Client from https://auvpn2.auburn.edu/global-protect/getsoftwarepage.esp based on your computer's system.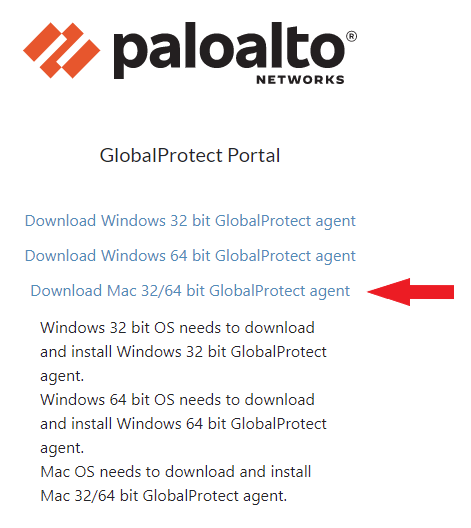 2. Run the Client Installer and follow the Installation Wizard.
3. Under "Introduction", click Continue.
4. Under "Installation Type":
a. Make sure that GlobalProtect is selected. If you ever need to uninstall the client rerun this installer and select "Uninstall GlobalProtect" instead of selecting "GlobalProtect."
b. Click Continue
5. Under "Installation Type"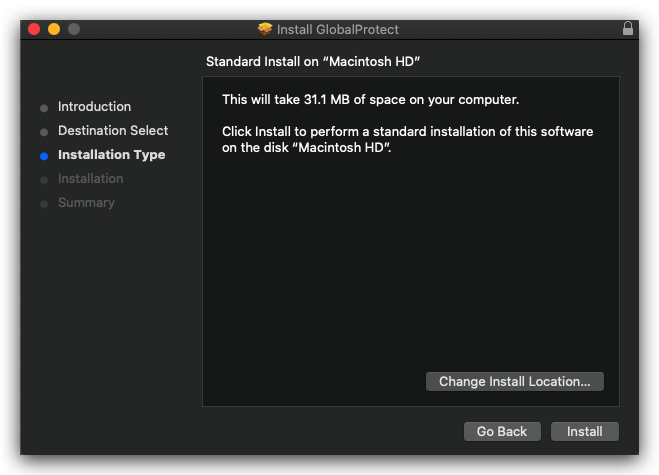 a. Change Install location if you like. Otherwise, click "Install."
You may be prompted to enter your local username and password before the installation starts. You may be prompted a second time after the install finishes if performing an upgrade.
6. Installation Complete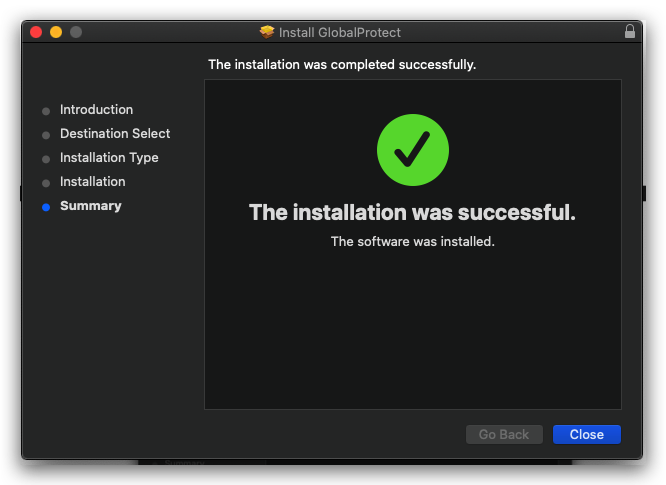 a. Click close
7. Once installed, click the Globe icon in the menu bar, and you will get the following window. Enter "auvpn2.auburn.edu" for the portal address and click connect.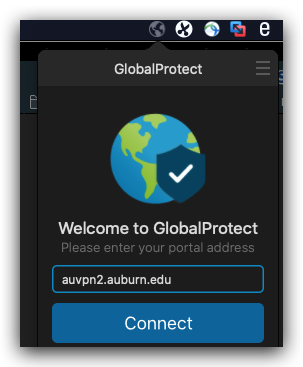 8. When prompted, enter your Auburn username and password and click sign in. You will receive a Duo prompt on your phone. Accept the prompt, and the connection will finalize.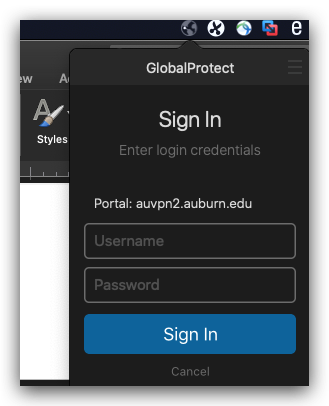 9. You will see the following after successfully connecting to the VPN. Once you have finished using the VPN, please disconnect. Staying connected can cause Duo to continue to send unrequested prompts.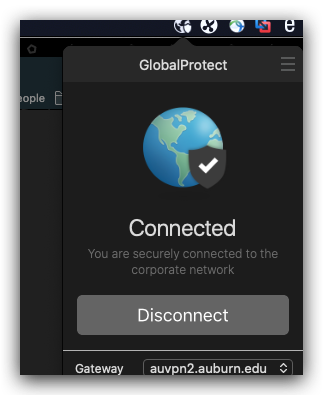 Please click here for troubleshooting steps for users who have installed GlobalProtect but cannot connect.