If you need to manage network services, you will need to submit a Network Data Request.
These changes will likely include the following:
Install a new jack and activate the service

Move an existing jack to a new location on the same wall or in the same office

Activate service on an existing jack
This request form can be found by searching for "Network" on the OIT Homepage at auburn.edu/oit or by visiting aub.ie/networkdata.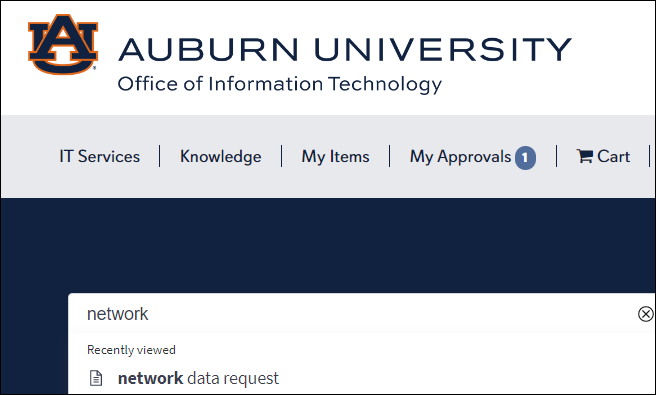 Click on "Network Data Request," as shown above.
In the search results, click on "Network Data."

How to Complete the Network Data Request
Follow these steps to ensure that you complete the Network Data Request correctly.
1. Change Contact Information – Who is requesting the change? In this section, you will need to provide who is requesting the change. Your information as the requestor will populate automatically.
2. Network Data Service Request Type
a. The requestor must select the type of work that will need to be done. Either "Install new jack and activate service" or "Activate service on existing jack."
b. "Install new jack and activate service" can also be used when an existing jack needs to be moved to a different location on the same wall or within the same office.

3. Billing Information – this is the department that will be charged
a. The Billing Information is necessary when changing network ports, telephone service, or equipment. There are times when charges are incurred, but it is also a way to ensure your employees and equipment are on the correct FOP.
4. If you know the FOP, you will select "Use a registered FOP or Tenant ID."
a. Enter the FOP. The system will help you with the format and will attempt to find the number.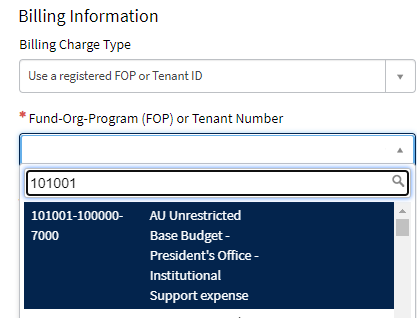 5. If you are using a new FOP that is not currently in the billing system, you will need to request that it be entered by selecting "Add & use a new FOP."

a. When you select "Add & use new FOP," three new fields will open on the right. Fill these fields out accordingly.
b. Once the FOP is added to ServiceNow, it will be added to the billing system when the request is approved.
6. Service Location – Where (on-campus) the change is requested
a. Here, you will enter the building and room number where the jack needs to be located or is located.

7. Additional Information
a. This is a space where you can provide additional instructions that will assist the technicians in completing your order.
b. You can also click Add Attachments and add pictures if necessary.
8. Scroll back up to the top of the page and click the green Submit button.
9. You should receive an email confirming your submission.